Reno De Stefano is a Montreal-based jazz guitarist-composer. He has shared the stage with American virtuoso guitarists Joe Diorio and Sid Jacobs and has performed with many Canadian musicians, including James Gelfand, Lorraine Desmarais, Norman Lachapelle, Luc Beaugrand, Ron Di Lauro, Skip Bey, Brian Hurley, Muhammad Abdul Al-Khabyyr and many others. As a leader, he has recorded three CDs (Matters of The Spirit, Mimi's Dance, Elevation) with original compositions featuring Michel Donato, Kevin Dean, André White, Dave Laing and Alec Walkington. Reno De Stefano has also performed at the prestigious Place des Arts with Canadian bassist Michel Donato. His work and development as a jazz guitarist and composer have culminated in a series of concerts at the Montreal International Jazz Festival, the Montreal Jazz Association, the Salle Claude-Champagne, the Montréal Drum Fest, the Maison de la Culture Frontenac, Théâtre de Verdure, Stewart Hall, Upstairs jazz club, Salon de la guitare de Montréal, etc. His quintet was nominated for the General Motors Grand Jazz Award and the Galaxie Rising Star Award of the CBC at the Montreal International Jazz Festival in 2008.
His compositions and performances have been featured on many jazz radio programs, including CBC Radio and Espace Musique. In the past six years he has performed regularly on Monday and Tuesday nights at Modavie, in Old Montreal. He is presently a tenured, full professor of jazz studies at the Université de Montréal. He holds a Ph.D. in jazz studies and is widely published as a composer, musicologist and educator. His guitar lessons are published worldwide through Just Jazz Guitar magazine.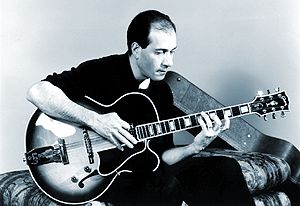 Reno De Stefano plays a Gibson L-5 Wes Montgomery model and the Gibson ES-325 guitar.
The Spirit